Core Beliefs & Bylaws
Welcome to our Core Beliefs and Bylaws section. Below, you will be linked to a few helpful PDFs that will give you the details on who we are and what we believe:
Click here for the SBC Core Beliefs.
Click here for the SBC Members' Covenant.
Click here for the SBC Bylaws.
The following is our ELEMENTS Table. These are what we consider to be our core values - the elements we are made of.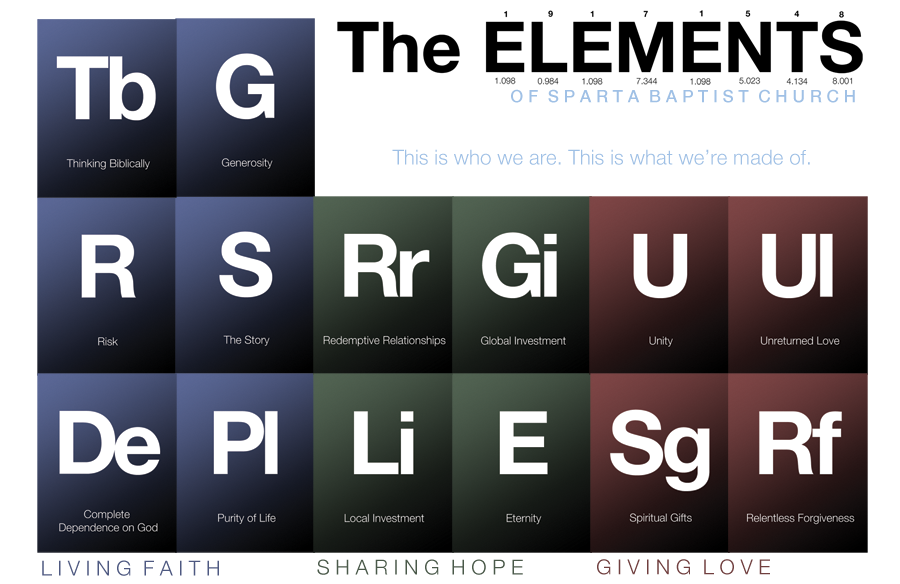 Table Key:
W - Wisdom : We desire to think about and respond to life like Jesus. (Romans 12:1-2)
G - Generosity : We desire to leverage our resources for others. (1 Timothy 6:17-19)
R - Risk : We desire to regularly begin work only God can complete. (Hebrews 11:1-6)
S - The Story : We desire to discover our role in God's greater story. (Romans 8:18-30)
De - Complete Dependence on God : We desire to surrender self-reliance. (John 15:5-8)
Pl - Purity of Life : We desire to flee sin, pursue God, and guard our hearts. (1 Peter 1:13-16)
Rr - Redemptive Relationships : We desire to guide everyone in our lives to a greater relationship with Jesus. (Matthew 5:13-16)
Li - Local Investment : We desire to bring God's Kingdom into our present community. (Colossians 4:5-6)
Gi - Global Investment : We desire to send God's Kingdom into the communities of the world. (Psalm 96)
E - Eternity: We desire to celebrate creation and work for redemption because we have hope in the resurrection. (Revelation 21:1-7)
U - Unity : We desire to grow in our faith together by the power of the Holy Spirit. (Ephesians 4:2-3)
Ul - Unreturned Love : We desire to love those who don't or can't love us back. (Luke 6:32-36)
Sg - Spiritual Gifts : We desire to identify and exercise our God-given talents. (Romans 12:3-8)
Rf - Relentless Forgiveness : We desire to forgive, at any cost, those who have wronged us. (Matthew 18:21-25)
What's Next
Most months, we host a "What's Next" meeting for those who are new attenders and would like more information on SBC. At this meeting, you get to meet the staff and ask any questions you like.
Baptism
If you have recognized Jesus as King but have not yet followed it with public baptism, we hold baptism services regularly. Contact the office ( / 616.887.8813) for more information.